Kindle is an app from Amazon which allows to read e-Books online whether it may be purchased or free eBooks. The main advantage of Kindle is you can start reading e-Books wherever you are by just opening your Kindle App. During recent years Amazon have also introduced Kindle Devices which are similar to Smartphone and tablets some of the Kindle Devices series are Kindle Voyage, Kindle Paperwhite, Kindle Fire, Fire HD Kids etc. Those who don't have Kindle Devices they can also access or read e-Books on Kindle with the help of Kindle Apps which are almost available for all Operating Systems like Android, iOS, Blackberry, Windows Phone, and PC OS like Windows 10, Windows 8.1, Windows 8, Windows 7, Windows Vista, Windows XP and MAC OS X.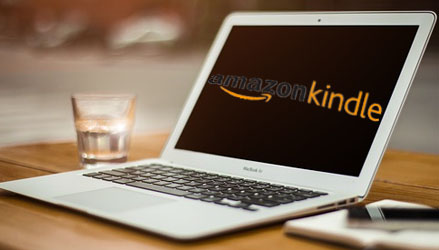 Features of Reading Kindle books with Kindle Reading App
Take Kindle Books along with you: Kindle reading app is available on most of the platforms which includes computers, smartphones, and tablets. So once you buy Kindle books you will able to read it on any of your devices with the help of Kindle App, as well as you can also read the purchased book on your Kindle Device.
Kindle Books: Before purchasing any books you can view sample books for e.g. only one chapter of the book will be available as a sample to make a decision whether you want to buy or not.On Kindle you will also find thousands of free books which you can read free of cost without paying for e.g. classic series like Pride and Prejudice, The Adventures of Sherlock Holmes, and Treasure Island etc.

Borrow library books is another best feature in Kindle where you can check out eBook in your local library and get it delivered wirelessly with the help of Kindle App.With the help of Kindle App you can even read magazines and newspapers on your smartphone device with vivid color images and high resolution. With Kindle you also get a freedom to buy a single issue or a subscription of Newspapers or Magazines.
Sync to Furthest Read Page: Sync to furthest read page feature helps to save and sync automatically your furthest page read which means when you open the same book on any of your device you will be navigated to the page where you have last left off on other accessed device.
Kindle Reading Tools: While reading books in Kindle App you can personalize the books by adjusting the text size, choosing background color, changing screen brightness, and to view eBooks in portrait or landscape mode.In Kindle App there is also a feature to look up words and find out the definition or meaning of it by keeping tap and hold on any of the words by using in build dictionary or Google or Wikipedia.

You can organize your books by categories by taps.
Download Kindle for PC Windows & MAC OS X
Amazon Official website now offers to Download Kindle for PC on Windows and MAC OS X based computers or laptop. After Downloading Kindle for PC app you can install it and register a free Kindle Account and if you already have a Kindle Account than you can directly login and start begin reading Kindle editions of books on your Windows or MAC OS X computers.
Below are official links from where you can download latest version of Kindle App for PC
To Download Kindle for PC (Windows 10, Windows 8.1, Windows 8, Windows 7, Windows Vista, and Windows XP) click here.
To Download Kindle for PC (MAC OS X) click here.
After installing the Kindle Apps on PC and signing in with your Amazon Account you can start viewing and reading the Kindle Edition e-books on your PC without requiring to open any Web browsers, you can even shop new e-books in Kindle App on PC by clicking on Shop in Kindle Store and type the name of the book which you want to purchase in the search box and hit on search.