Coronavirus which is also known as COVID-19 is an infectious disease created by the newly discovered virus named Coronavirus. This virus called Coronavirus is spread through the droplets or discharge released from the nose of the infected person in the form of sneezing or coughing.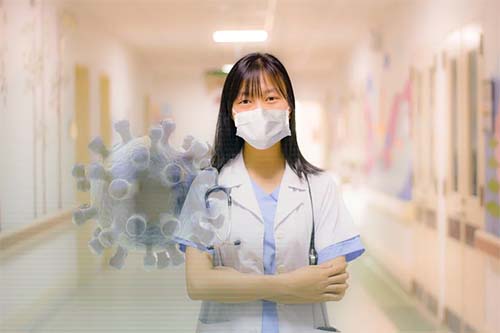 Coronavirus or COVID-19 is very hazardous as it can lead to death and as of now, there is no vaccine and no specific antiviral medicine to prevent or treat COVID-2019. This is the reason why the entire world is working against several practices to fight against this life-threatening infectious disease.
If you want to protect yourself, family, loved ones and the society from this pandemic then you should follow the precautions strictly as prescribed by the WHO which is mentioned below.
Prevention Measures for Coronavirus
Wash your hands frequently with soap and water for at least 20 seconds or you can even sanitize your hands with alcohol-based rub or gels if you don't have access to the soap and water
Avoid touching your face and nose
Maintain social distancing, if not possible in certain scenarios then maintain at least 1-meter distance between you and people coughing or sneezing
Cover your mouth and nose while sneezing or coughing
If you are feeling unwell then stay at home
Avoid smoking and doing activities which weakens the lungs
Stay away from crowded places or groups and avoid unnecessary traveling
Symptoms of Coronavirus
If you are having recent travel history then you should seek medical help. However, below are a few Symptoms of Coronavirus which may be experienced by different people in different ways.
Fever
Tiredness
dry cough
shortness of breath
aches and pain
sore throat
diarrhea
nausea or a runny nose
COVID-19 is a respiratory disease and most of the infected people will experience mild to moderate symptoms and recover without any requirement of special treatment. But People who have medical conditions and those who are over 60 years old have a higher risk of developing severe disease and even death.
Day by day the situation is getting worse, but this chain of COVID-19 can only be broken by seriously maintaining social distance. The mainland that is China from where the first case of the COVID-19 occurred and drastically spread in a few months, worked on social distancing by locking down the region. And now almost after 3 months of the lockdown, they were successful in breaking down the spread chain of the Coronavirus.
Currently, all countries are experiencing the outbreak of COVID-19 and the cases are also peaking up day by day. After several countries imposed lockdown, India has also imposed the lockdown nationwide to fight against Corona-virus.
Mini Janta curfew
On 22nd March 2020, PM Narendra Modi had announced a very minor lock-down for 14 hours and named it as a Janta curfew to battle against the culprit Corona-virus outbreak. The PM had also requested to express gratitude to all those Doctors, workers, etc. who are currently working to fight against Coronavirus by maintaining five-minutes standing ovation at 5 pm by clapping or ringing bells or beating plates.
21 Days Total Lockdown
But the lockdown didn't end here, on 24th March 2020 PM Narendra Modi announced a total lock-down for 21 days starting from 25th March 2020, 12 AM onwards. This total lockdown also puts a ban on venturing out of the homes.
Lockdown extends by 3rd May 2020
On 14th April 2020 at 10 AM while addressing the nation PM Narendra Modi further extended the lockdown until 3rd May 2020.
PM also requested the citizens to:
Take care of elderly family members
Follow the complete lockdown guidelines and use homemade masks
Follow the guidelines by the Ministry of AYUSH
Install Arogya Setu App on phones to prevent the virus from spreading
Help poor families and provide them food
Don't take away the jobs of your employees
Respect Corona warriors
To get a clear picture of this lock-down, let's learn what all will be closed and open during the complete lockdown.
What will be Open and Closed during Lock-down
Offices Of the Government Of India, it's Autonomous/ Subordinate Offices and Public Corporations shall remain closed.
Exceptions: Defence, central armed police forces, treasury, public utilities (including petroleum, CNG, LPG, PNG), disaster management, power generation and transmission units, post offices, Nationa Informatics Centre, Early Warning Agencies
Offices of the State/ Union Territory Governments, their Autonomous Bodies, Corporations, etc. shall remain closed. Exceptions:
Police, home guards, civil defense, fire and emergency services, disaster management, and prisons.
District administration and Treasury
Electricity, water, sanitation
Municipal bodies— Only staff required for essential services like sanitation, personnel-related to water supply, etc
The above offices (Sl. No 1 & 2) should work with a minimum number Of employees. All other offices may continue to work-from-home only.
Hospitals and all related medical establishments, including their manufacturing and distribution units, both in public and private sectors, such as dispensaries, chemist and medical equipment shops, laboratories, clinics, nursing homes, ambulance, etc. will continue to remain functional. The transportation for all medical personnel, nurses, para-medical staff, other hospital support services be permitted
Commercial and private establishments shall be closed down. Exceptions:
Shops, including ration shops (under PDS), dealing with food, groceries, fruits and vegetables, dairy and milk booths, meat and fish, animal fodder. However, district authorities may encourage and facilitate home delivery to minimize the movement of individuals outside their homes.
Banks, insurance offices, and ATMs.
Print and electronic media
Telecommunications, internet services, broadcasting and cable services. IT and IT-enabled Services only (for essential services) and as far as possible to work from home.
Delivery of all essential goods including food, pharmaceuticals, medical equipment through E-commerce.
Petrol pumps, LPG, Petroleum and gas retail, and storage outlets.
Power generation, transmission and distribution units, and services.
Capital and debt market services as notified by the Securities and Exchange Board of India
Cold storage and warehousing services.
Private security services
All other establishments may work-from-home only.
Industrial Establishments will remain closed. Exceptions:
Manufacturing units of essential commodities.
Production units, which require continuous process, after obtaining required permission from the State Government
All transport services — air, rail, roadways — will remain suspended. Exceptions:
Transportation for essential goods only.
Fire, law and order and emergency services.
Hospitality Services to remain suspended. Exceptions:
Hotels, homestays, lodges and motels, which are accommodating tourists and persons stranded due to lockdown, medical and emergency staff, air and sea crew.
Establishments used/ earmarked for quarantine facilities.
All educational, training, research, coaching institutions, etc. shall remain closed.
All places of worship shall be closed for the public. No religious congregations will be permitted, without any exception.
All social political/ sports/ entertainment/ academic/ cultural/ religious functions / gatherings shall be barred.
In the case of funerals, a congregation of not more than twenty persons will be permitted.
All persons who have arrived into India after 15.02.2020, and all such persons who have been directed by health care personnel to remain under strict home/ institutional quarantine for a period as decided by local Health Authorities, failing which they will be liable to legal action under Sec. 188 of the IPC.
Wherever exceptions to above containment measures have been allowed, the organization's of employers must ensure necessary precautions against COVID-19