There are many benefits of NTFS file system format. And one of the main advantage is that, it provides better security for data and performance on hard disks and partitions as compared to FAT32 file system. If you are having Hard Disk or USB which is still using FAT32 file format than you can easily get it converted to NTFS without losing data or formatting. Whether it may be a Internal Hard Drive or External Hard Drive or USB Drive, the file system can be converted within seconds without formatting.
The below chart explains the difference between the FAT32 and NTFS file system. After referring to below chart you will get better idea of both the file system formats.
| Features | FAT32 | NTFS |
| --- | --- | --- |
| Max File Size Support | 4GB | 16TB |
| Accessing speed | Low | High Speed as compared to other FS |
| Max Characters File Name Spport | 83 | 255 |
| Compatible OS | Windows 95/98/2000/2003/XP | Windows NT/2K/XP/Vista/7/8/10, macOS X, Linux |
| Encryption | Not encrypted | Encrypted with Encrypting File System (EFS) |
| Security | Network Type Only | Both Local & Network Type |
| Fault tolerance | No Fault Tolerance | Automatic troubleshoot |
| Compression | Not Available | Supported |
| User-level disk space | Not Available | Supported |
| Conversion | Supported | Not Supported |
| Suitable | Smaller Capacity Flash Memory Devices like MC, USB drives | Large Capacity Disk |
Before converting your FAT32 Drive to NTFS you should be aware with the fact that once you have converted your hard disk drive or USB to NTFS you cannot convert it back to FAT32 file format. And if you still insist to convert it back to FAT32 than you will have to reformat the hard disk drive or USB which will erase all data present in the drive.
Below steps will show you step by step method on how to Convert USB/Hard Drive from FAT32 to NTFS in Windows 11. However you can also do it in any other versions of Windows such as Windows XP, Windows Vista, Windows 7, Windows 8 or Windows 8.1, and Windows 11.
Convert USB/Hard Drive from FAT32 to NTFS in Windows
Before you begin following the Process to Convert USB or Hard Drive from FAT32 to NTFS, to be on a safer side it is better to take back up of all data from the Hard Drive or USB. However there is chance of less risks of corruption or data loss during conversion.
Close all open programs or files if they are running from the hard drive or USB which you want to convert.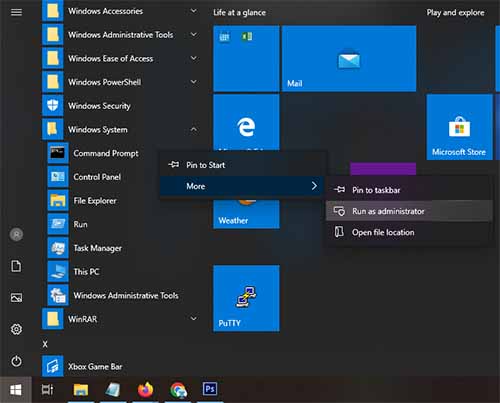 Start Command Prompt (CMD) with Admin Rights in detail Click on Start button > All Apps > Windows System, right-click Command Prompt and then click Run as administrator If you're prompted for an administrator password or confirmation, enter the password or provide confirmation.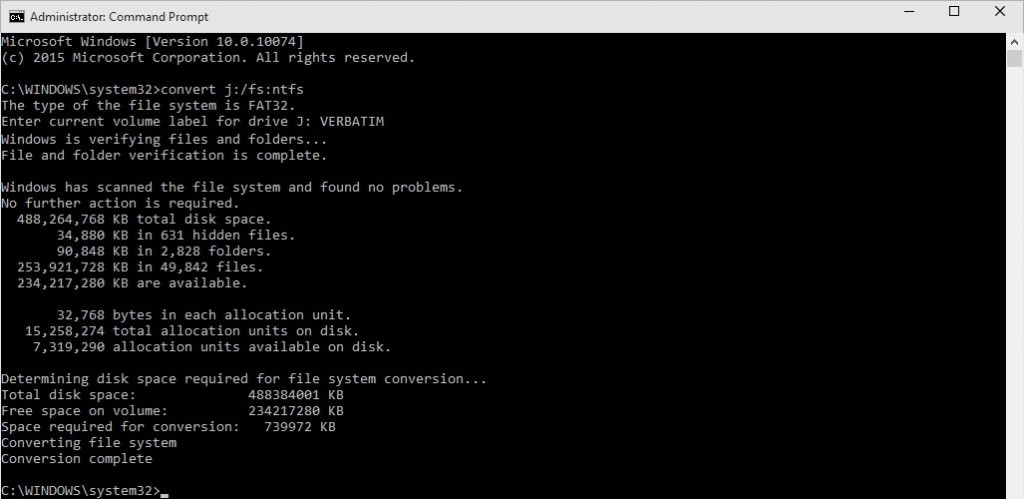 In the Command Prompt, type convert drive letter: /fs: ntfs and press enter, (in my case I want to convert drive J: so I have typed convert j:/fs:ntfs).
In the Next screen you will be asked to type the current volume label of the drive (you should enter the existing name of the drive or else the conversion process will be aborted).
That's it after entering the label name the conversion process will start and once it gets completed you will get a message in command prompt saying Conversion Complete as you can see in the above screenshot.