Character Certificate Online Apply: Character certificates play a vital role in various aspects of life, including education, employment, and personal endeavors. Traditionally, individuals had to go through a lengthy and cumbersome process to obtain a character certificate.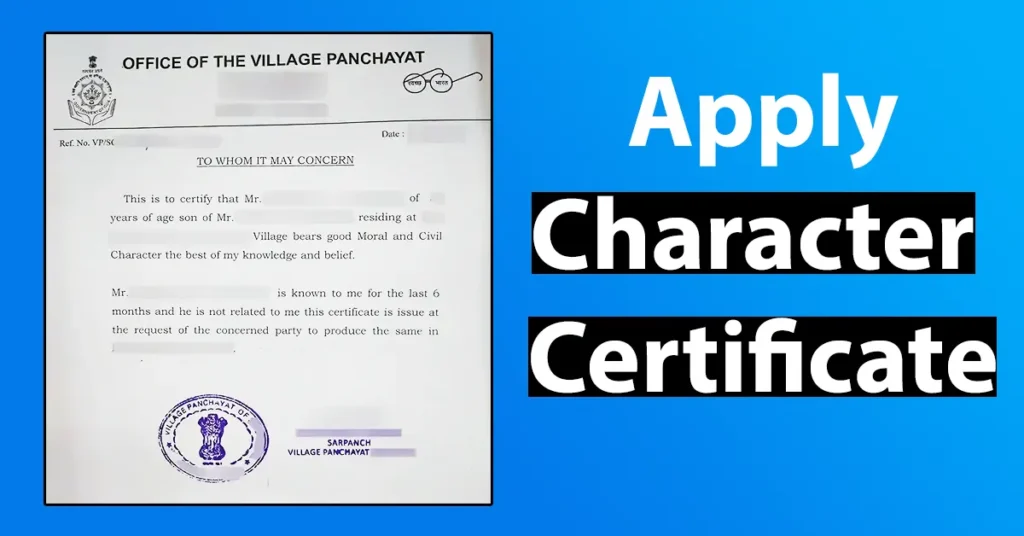 Due to a lack of clear guidelines pertaining to the application procedure for obtaining a Character Certificate, individuals were compelled to make multiple visits to the relevant Government Department office responsible for issuing said certificate in order to acquire the necessary information. However, with the advancements in technology, it is now possible to get to know the complete application process of obtaining a Character Certificate and which Government Office Department you should visit to apply for one. So this article will introduce you to the complete process of Character Certificate Application process and steps involved in it.
| | |
| --- | --- |
| Service | Character certificate or Sarpanch Character Certificate |
| Application Fee | Free |
What Is A Character Certificate
Some people mistaken Character Certificate as a Police Clearance Certificate, however both these documents are separate and serves distinct purposes. A Character Certificate is also known by name Sarpanch Character Certificate. A character certificate serves as a testament to an individual's moral character, integrity, and conduct. It is a document that verifies the person's background and vouches for their good behavior. Character certificates are often required when applying for educational institutions, seeking employment, applying for a visa, or participating in certain professional activities.
Uses of Character Certificate
Character Certificate may be requested for several purposes, below are some of the purposes where all Character Certificate is asked to produce.
| | |
| --- | --- |
| PSV Badge | Employment |
| Visa | Professional Activities |
Documents Required for Character Certificate
Below are the documents which are required in order to apply for the Character Certificate.
| | |
| --- | --- |
| Aadhaar Card | Voter ID |
| Driving License | Passport |
How to Apply Character Certificate
The Character Certificate can be obtained from the nearby Panchayat by submitting a application form.
Below is the format of the Character Certificate Application Form.
Character Certificate Format
From (Your Name)
(Your Complete Address)
Mobile: ________________

To,
The Sarpanch,
Village Panchayat _____________________
(Panchayat Address)

Subject: Application for Character Certificate

Sir,

I the undersigned hereby kindly request you to issue me Character Certificate as I want this Certificate to produce in for (mention reason).

The Details is as under:

Name: __________
Age: ____________
Name of Father: _________
Name of Mother: ______________

I hope you will do the needful and oblige.

Thanking you,

Yours Faithfully
Please complete the application form in the prescribed format by entering your personal details.
Afterward, obtain a printed copy of the duly filled Character Certificate Application Form.
Sign the form and enclose a photocopy of any identity proof document listed in the Documents Required for Character Certificate.
Next, ensure that the form is endorsed by a local community member who can serve as an introducer.
Finally, submit the completed form along with the photocopy of the document to the designated Panchayat Office.
Following submission, it is advised to anticipate a period of approximately 2 days to 1 week before visiting the Panchayat Office to collect your Character Certificate.
Once in possession of the Character Certificate, it may be utilized exclusively for the specified purpose mentioned during the application process.
Kindly note that the validity of the Character Certificate is limited to the intended purpose for which it was obtained.
Here is an image of the Character Certificate, which shows you what your own certificate will look like.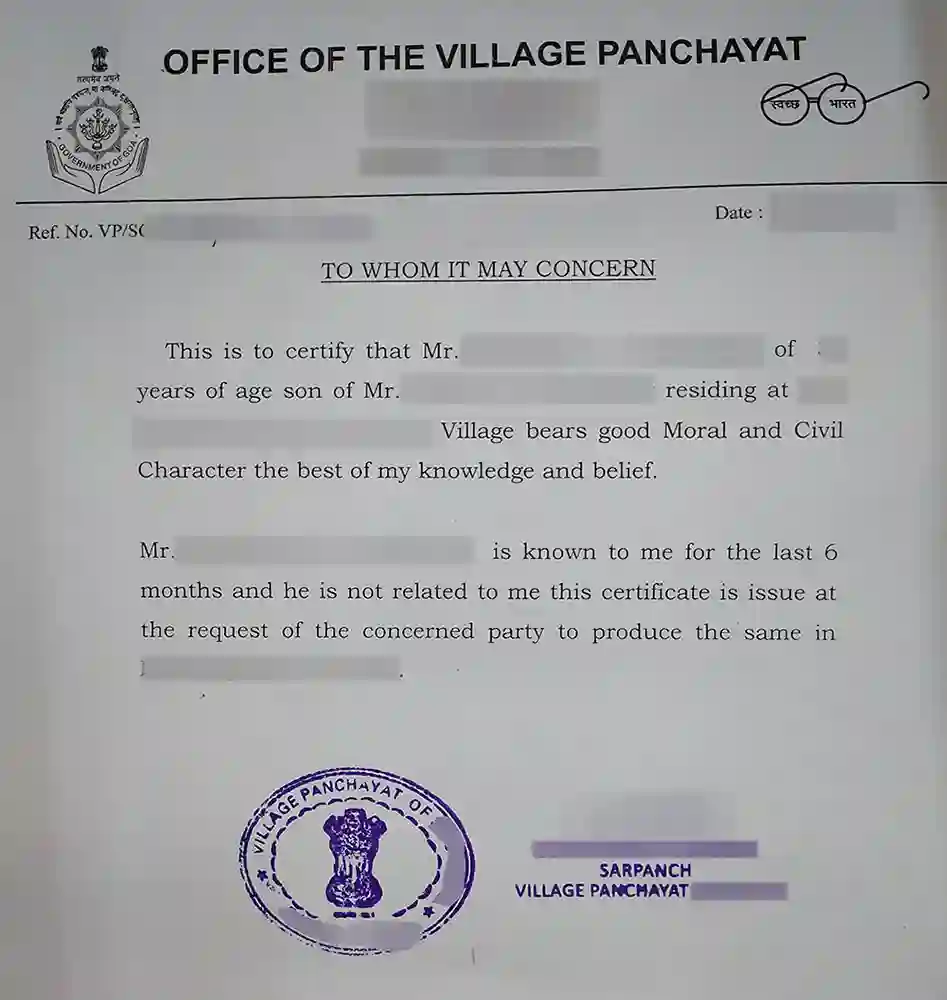 Can I Apple Character Certificate Online?
No, there isn't any online facility to apply for Character Certificate Online. But it may vary depending on the policies and provisions established by each respective state, so make sure you check on your State Government Portal if they have provided facility for Character Certificate Apply Online.
Can I download Character Certificate?
If your State Government offers online application system for Character Certificate, then once the certificate is issued you may download it from the online portal.