Fixed Deposit's are one of the best and reliable source of investment's. With Fixed Deposit you get guaranteed returns and the best part about it is that you can close fixed deposit during the emergency needs. But there are few fixed deposits too which are offered by banks which doesn't allow premature withdrawal because they offer extra attractive rate of interest.
If you hold a fixed deposit and in-case if you need to cancel one of them, than you can easily break it by visiting the branch or through online mode in few clicks. So here we have mentioned the process on how to break fixed deposit online in various banks using online banking facility or mobile banking mode.
Break Fixed Deposit in Axis Bank Online
Visit Official Axis Bank Portal, and login to your Internet Banking Account
Once you are logged in into your Axis Bank Internet Banking Account, just click on Accounts > Deposits
Once you are there on deposits page you will find all open fixed deposit accounts linked with your account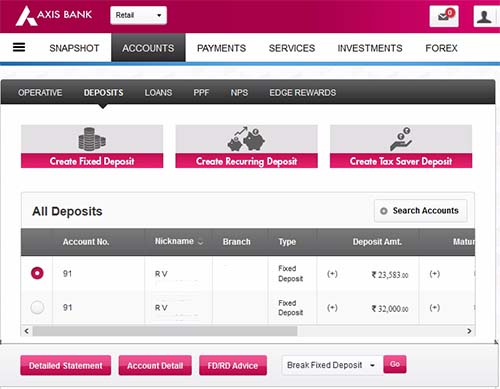 To close or break any one of the fixed deposit just select Fixed Deposit Account from the list and under dropdown option select Break Fixed Deposit and click on go button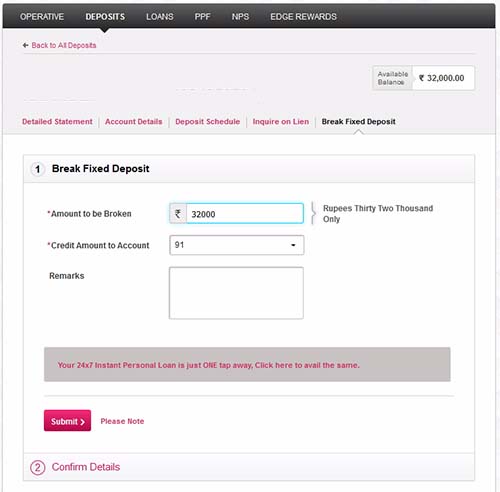 On next page you will have to enter amount to be broken from FD, if you want to break close entire FD than enter the whole amount and if you want to break the FD partially than enter the amount which you require, than select the credit amount to account from the dropdown option which will be your bank account number and then click on submit button.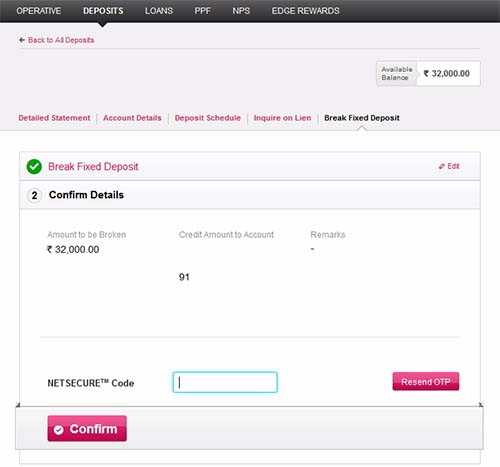 Next you get confirm details where below you will have to enter NetSecure Code which you will receive on your registered mobile number, enter the code received on your mobile number via SMS in the text field and click on confirm button.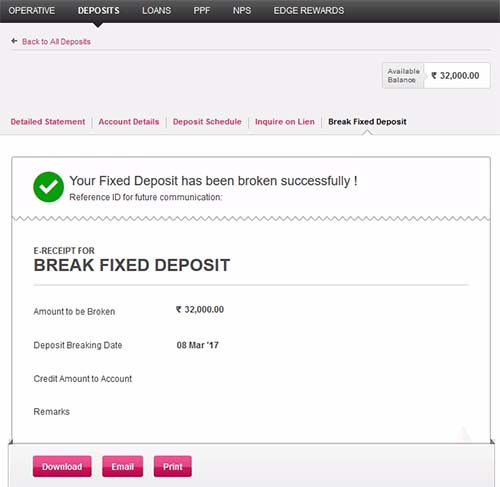 On next page you will see message your fixed deposit has been broken successfully with e-Receipt, you can download or print the receipt for future reference purpose.
The fixed deposit amount will instantly get credited into your Bank Account.
Break Karnataka Bank Fixed Deposit Online via Internet Banking
To break your fixed deposit in Karnataka Bank Online you will have to visit the official Karnataka Bank website https://karnatakabank.com/ and click on the login > Internet banking > Personal NetBanking
Next you will have to enter your User ID, solve the captcha code and click on the login button
On the next page you will need to enter your password and click on login button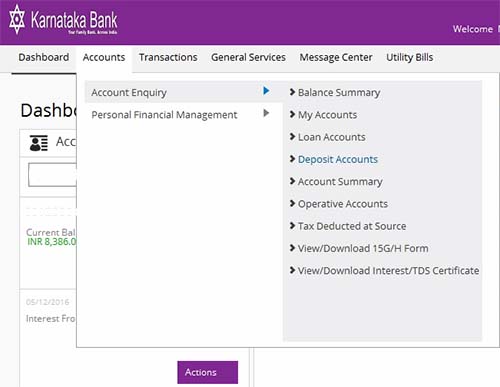 Once you are logged in into your account just go to Accounts > Account Enquiry > Deposit Accounts.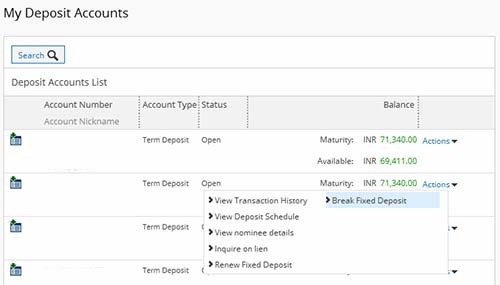 All your fixed deposit accounts will be displayed there, select any of the fixed deposit which you want to break and on right hand corner just click on Actions > Break Fixed Deposit.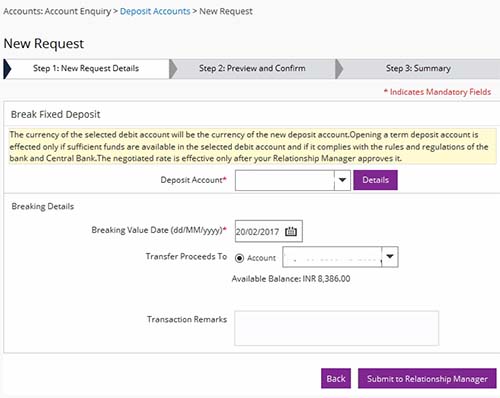 On next page you will have to select breaking details like Breaking Value Date on which day you want to break your FD, than select account transfer proceeds to from drop down list and select your SB Account.
And click on Submit to Relationship Manager, on next page you will be asked to enter your transaction password. Just enter the transaction password to proceed breaking FD and click on submit button.
On next page you will get message saying your request with reference number is pending for bank approval.
Once the bank approves your request your funds will get credited into your bank account.