A gas cylinder is one of the basic needs of every household. In this modern world, online booking service makes our work easy as the LPG Gas cylinders can be booked online. Booking LPG Gas Cylinder Online has eliminated the hectic of standing in queues. Now almost all the major LPG gas cylinder providers have moved on to the new system of booking LPG Gas Cylinder Online.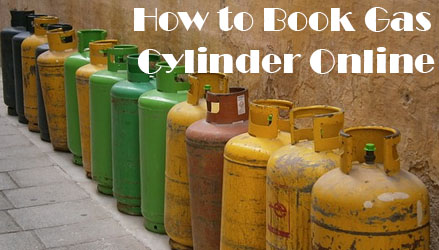 Benefits of Booking LPG Online
No extra fees or service charges on Online Booking
Save your time as well as efforts
No need of standing in queues or Calling LPG Customer Care
Get your LPG Cylinder delivered on time
You can track your order status
Booking LPG Cylinder Online is available all over India and for all service providers like HP, Bharat Gas, and Indane Gas, etc.
Earn reward points on making payment online with a credit card or debit cards
To Book LPG Gas Cylinder Online the consumer will have to enter details about their LPG Gas Cylinder Consumer Number etc. Your LPG Gas book will contain your consumer id, registered mobile number, 17 digit LPG ID, etc. so you can refer your book to get these details while booking your refill. But the earlier gas book doesn't contain the 17 digit LPG ID printed on it, so in this case, you can find your 17 digits LPG ID Online in few seconds.
How to Find 17 digit LPG ID
To find LPG 17 digits ID, click on the respective service provider link from the below option.
Once you click on your respective Gas Cylinder Service provide, you will be navigated to a new page of Find Your LPG ID
In the Find Your 17 digit LPG ID page, you need to enter your registered mobile number, or select distributor, enter consumer number, solve the captcha security code and click on the proceed button
If you have entered your details correctly then your 17 digits lpg id will be displayed below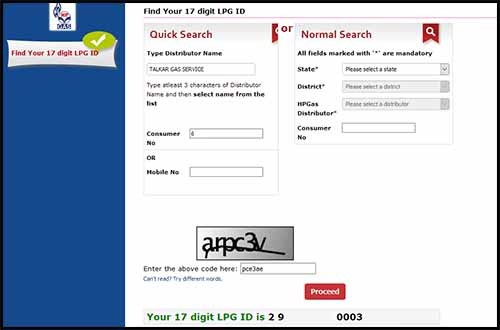 You need to note down your 17 digits LPG ID, with this ID you can book your gas cylinder refill or avail any schemes.
So now let's get familiar with the entire process on how to Book Gas Cylinder Online.
Booking HP Gas Cylinder Online
To Book, HP Gas Cylinder Online visit the official website of Hindustan Petroleum Corporation Ltd (HPCL)

Once you are on the Homepage of Hindustan Petroleum, just click on create account to create your account which will allow you to avail online refill booking, online double bottle connection facilities and online City transfer. (If you already have an account signed up before than you can directly login with your credentials).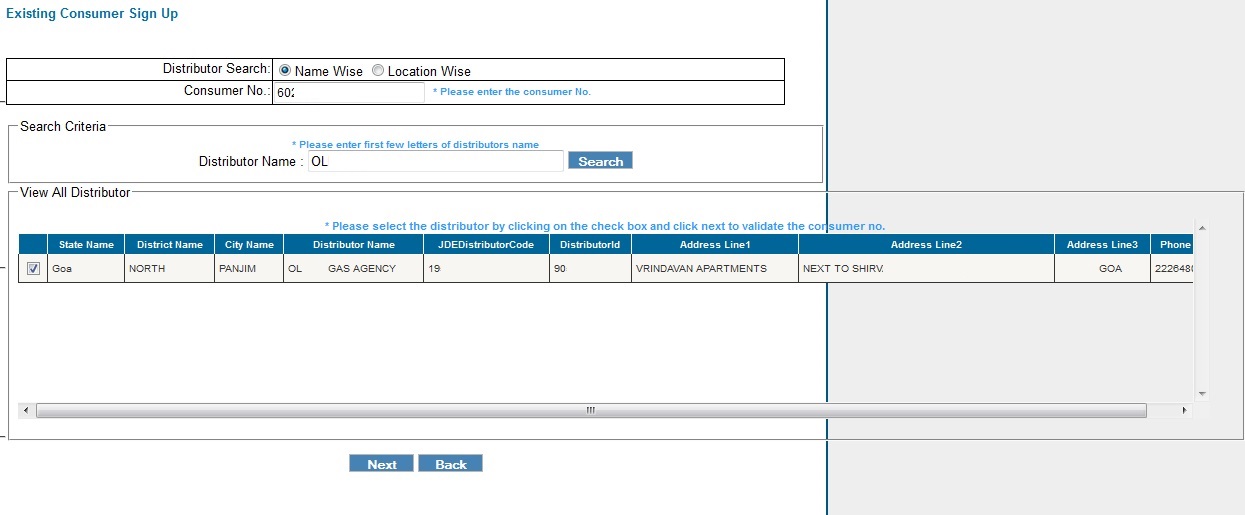 You will be asked to enter Consumer Number and Distributor Name, enter all these details and click on next to proceed.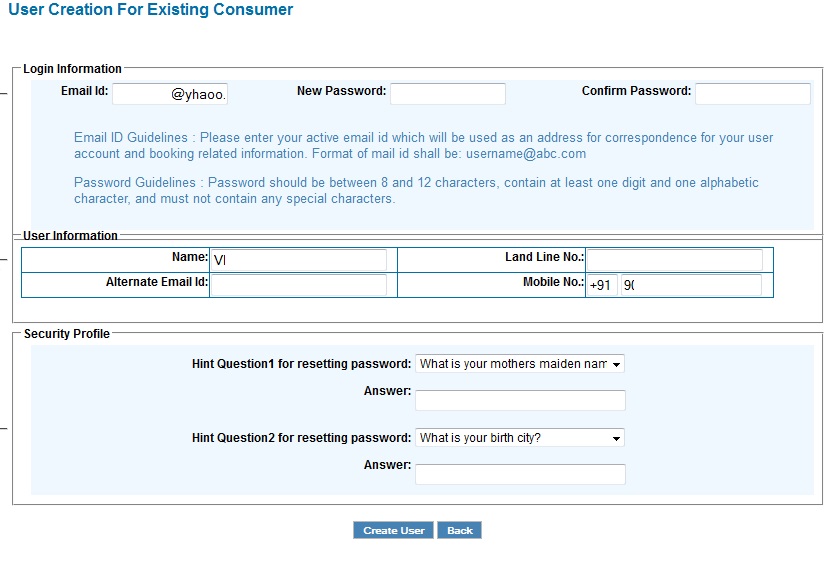 In the next page you will enter login information which includes email id, and setting a new password, the user information will automatically load which includes name of the consumer and mobile number below you will find security profile where you will have to enter hint questions for resetting password once you enter all these details just click on create user.

Your account will get successfully created but you will have to activate your account by clicking on the link in the activation email which is sent in your email id.
And then you can login into your account, and book your HP Gas Cylinder Refill Online.
Similarly if you want to book Bharat Gas Cylinder Refill or Indane Gas Cylinder Refill the method will be same as we have done in booking HP Gas Cylinder Refill Online. Just you will have to go to respective Gas Cylinder official website, register an account and book your Cylinder Online.
Booking Bharat Gas Cylinder Online
If you want to book Bharat Gas Cylinder Online than you will have to register an account with valid details by clicking here.
Booking Indane Gas Cylinder Online
If you want to book Indane Gas Cylinder Online than register an account by clicking here.
All the above modes were to book gas cylinder refill online through official service provider websites. But there are several banking apps, digital wallets, etc. which have integrated the feature to book gas cylinder refills in one go. So now let's get to know how you can book your Gas cylinder refill of any service provider through several banking apps and wallets.
Book LPG Gas Cylinder Refill in Pockets app by ICICI Bank
To book an LPG Gas Cylinder refill in the ICICI Pockets app, make sure you have installed the Pockets app by ICICI bank on your smartphone
If you don't have an account then you can register and if you have an account in Pockets app then just login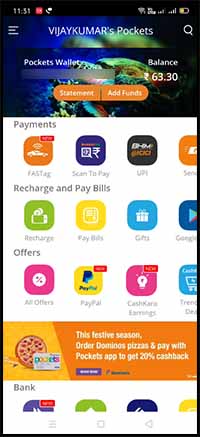 Once you are logged into ICICI Pockets app, just tap on Pay bills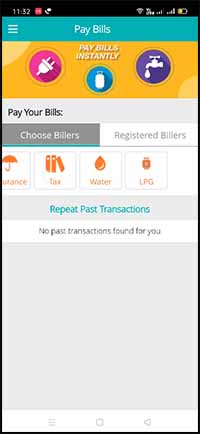 Under Pay your bills page just scroll untill you get option LPG and tap on it
In the next screen select your LPG service provider from the list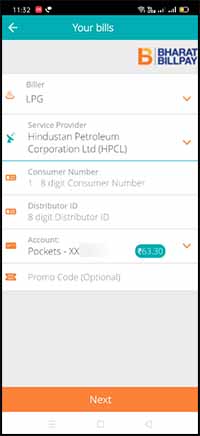 Enter your consumer id or number under consumer number field (you can find out your consumer id or number by referring to your Gas Book)
Under Distributor ID, enter the unique distributor id which is assigned to your distributor (you can also find distributor id on Gas Book itself)
The select the account from which you wish to pay for booking your gas cylinder refill, if you want to pay via pockets wallet then select pockets account or if you have ICICI bank account linked then you can even select bank account
Once done, just tap on the next button
On the next screen, the amount which you need to pay for your LPG refill will be displayed
To confirm just tap on the pay button to proceed with the payment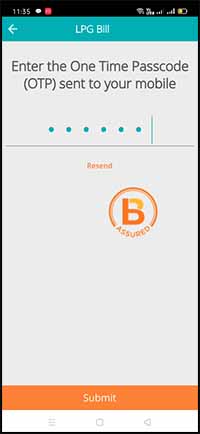 You will receive a one-time-password on your registered ICICI Pockets or ICICI Bank mobile number
Enter the received OTP and click on the submit button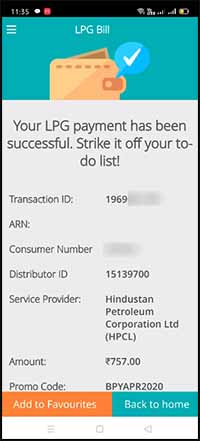 On the next page, your LPG refill has been successfully booked message will be displayed, showing the transaction id. If you want a payment receipt of the gas cylinder booked, then just scroll down, and below you will find an option view receipts.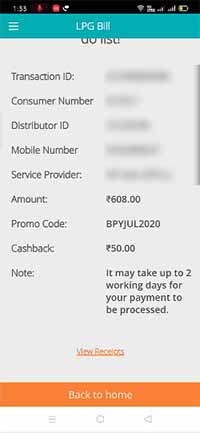 Just tap on the view receipts and the receipt of payment will open in pdf app
You can store this payment receipt pdf file on your device for future reference
Your LPG Gas Cylinder refill will be delivered to you in 2 -3 working days depending upon the LPG service provider's delivery time slot.
Make LPG Cylinder Payment on Amazon
Amazon now allows, gas cylinder booking of all major service providers like Bharat Gas, HP Gas, and Indane Gas. LPG cylinder payment can be done from the Amazon app as well as the website. Below is the complete process explained on how to make an LPG cylinder payment from Amazon.
To book LPG Gas Cylinder Online open the Amazon app or website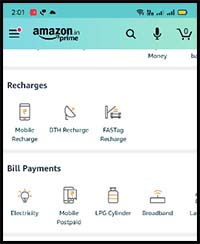 Go to Amazon Pay > and click or tap on Gas Cylinder under the Bill Payments section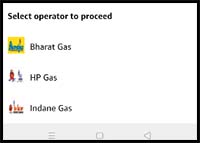 From the next screen, select your gas operator from Bharat Gas/ HP Gas/ Indane Gas
Enter your LPG ID/ registered mobile number and click on the get booking details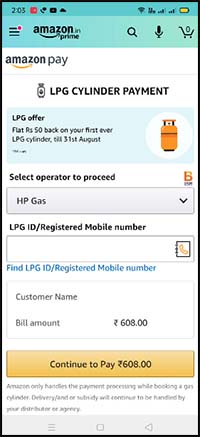 Your details will be fetched which will display customer name, and the bill amount
To proceed booking, just tap or click on continue to pay button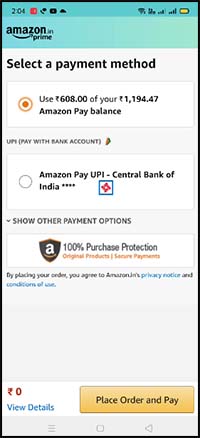 On the next screen payment methods will appear, select your preferred payment from Amazon Pay balance, UPI, Net banking, or Credit/ Debit Card and click on the place order and pay
On successful payment, order confirmation will be displayed
Your gas cylinder refill will be delivered to you withing 7 working days by your gas agency delivery service provider.
Remember that Amazon only handles the payment processing while booking a gas cylinder. Delivery/ and or subsidy will continue to be handled by your distributor or agency.
You will be able to check the gas cylinder refill order placed in Amazon Orders section. And if you want the invoice or the gas booking receipt for your future reference then the same can be downloaded from the orders section.
To download the gas refill booking receipt go to Amazon Orders section from app or website
Locate the order of gas cylinder booking under orders, and tap on order if on app or from the website just click on invoice option and click on printable order summary
If on app Scroll down and tap on show receipt
Your LPG Cylinder Booking receipt will be displayed, you can take the screenshot of the receipt and store it on your device for future reference
Do I need to pay any amount at the time of the delivery?
No, you don't need to pay any additional amount at the time of the delivery of the cylinder.
If I book a gas cylinder online, will I be eligible for a subsidy for the LPG cylinder?
If you are eligible for the government subsidy on LPG cylinders, then you will be receiving your subsidy as usual there won't be any changes. In case if you haven't receive the subsidy then you need to contact your LPG distributor.
Can I cancel the LPG Cylinder refill booked online for a refund?
No, once you have made the payment for booking LPG Cylinder refill you cannot cancel it for a refund. However, you may contact your LPG distributor for further help in this regard.
What if I don't have empty gas cylinder at home in exchange for the new one?
In case if you don't have empty gas cylinder with you then your delivery will be rescheduled.