Bigg Buzz Challenge is a weekly Flipkart Video Quiz Show hosted by Karan Wahi based on the episodes of the reality show Bigg Boss hosted by Salman Khan. In every episode, a set of questions are put based on the multiple episodes of Bigg Boss 14.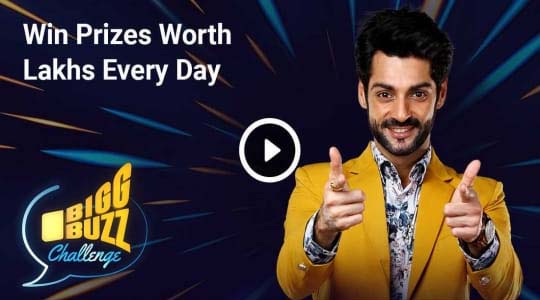 Those who are carefully following and watching the reality show Bigg Boss 14 episodes, it would be very easy to crack down the answers of every episode of Bigg Buzz.
Flipkart Bigg Buzz Challenge Weekly Rewards
₹1,000 Flipkart Gift Voucher
50 Winners
₹50 Flipkart Gift Voucher
2000 Winners
SuperCoins
15 SuperCoins for 2000 Winners
10 SuperCoins for 5000 Winners
5 & 1 SuperCoins for all remaining winners
The Bigg Buzz Challenge contest commences at 00: 00 hrs on 13th October 2020 and ends at 23:59 hrs on 17th January 2021.
The Ultimate Bigg Boss Quiz Win SuperCoins
How to Play Bigg Buzz Challenge
Install Flipkart app if not already installed on your smartphone
Sign in with your Flipkart account
Tap on the Game section
Scroll down to the games tab until you find the Bigg Buzz Challenge banner or else just click on this link to land directly on the game page from the app
Just tap on it
To start playing just tap on Play
The episode of the week will start playing
Whatever questions the host asks, you need to reply by selecting the available options provided
After the question is put, you will get 30 seconds to select the correct answer
Answer all three questions correctly
Results will be out at 9 AM every Monday (during the contest period)
And then you can unlock the surprise gift
Note down that to claim the prize you need to unlock the mystery box, in case if you miss claiming after the episode ends then you can also unlock the surprise for the game played by going to the Bigg Buzz Challenge page and tap on my rewards, select the episode of which you didn't claim the reward and tap on the unlock surprise gift.
The rewards are credited instantly to the user's Flipkart account once claiming it.
In order to be declared as the winner, the contestant needs to answer correctly all three questions.
Below are the correct answers to weekly episodes of the Bigg Buzz Challenge Show Quiz.
Season 1
EP14: Nikki ki Paathshala – 12th Jan 2021 | Answers
Which contestant is Rakhi trying to hit on?
Answer: Abhinav Shukla
What did Arshi say?
Answer: Manners sikhayegi
According to nikki what should rakhi learn from her?
Answer: Anushaasan
How won the miss glory earth beauty contest in 2014?
Answer: Aarshi Khan
Who will be evicted this week? (based on future episodes)
Answer: None of the above

A) Nikki tamboli
B) Eijaz Khan
C) Sonali Phogat
D) None of the above
EP13: Rakhi Ka Jalwa – 5th Jan 2021 | Answers
According to vikas which contestant is being foolish in their game?
Answer: Niki tamboli
What did rakhi say? Tera istemal karenge?
Answer: Popat banke bhi
Rakhi asked Ali n eizaz to call her by what name?
Answer: Julie
Which contestant won the Dada saheb Phalke award for best item dancer?
Answer: Rakhi Sawant
Who will be evicted from Bigg Boss this week? (based on future episodes)
Answer: Jassmin

A) Vikas Gupta
B) Rakhi
C) Jassmin
D) None
EP12: Captaincy ki Race? – 29th December 2020 | Answers
Who got out of the captaincy race first?
Answer: Eijaz khan
What did Eijaz say? apni umar ki_____?
Answer: Aukaad me reh
According to Rubina who is influencing other contestants against her?
Answer: Rahul Vaidya
Which contestant is a Professional Pilot?
Answer: Rahul Mahajan
Who will be the captain this week? (based on future episodes)?
Answer: None of the above

A) Abhinav Shukla
B) Rubina Dilaik
C) Rahul Vaidya
D) None of the above
Invite to Bigg Buzz Challenge & Win
Unlock more surprise rewards by inviting your friends and relatives to play the Bigg Buzz Challenge Quiz.
On inviting 5 friends you can unlock surprise gift up to ₹1000.
To invite through referral program, just open the Flipkart app
Login with your account
Go to Games > Under Game Zone tap on Bigg Buzz Challenge Contest
On the Bigg Buzz Challenge page, scroll down a bit and you will find a banner invite now
To start inviting just tap on that Invite Now button and invite your friend or relatives by sending your referral link through WhatsApp, email, message, etc.
Anyone who plays the game with your link will be counted and you will be able to see the count stats
Once you successfully finish inviting 5 friends you will be rewarded