Voter ID card or EPIC is one of the very important document if you want to cast your vote, also it can be used as an identity proof document nationwide. Any resident of India can apply for Voter ID Card in his or her Constituency once he or she completes 18 Years of age.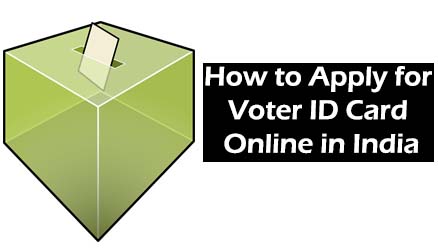 Have you stepped back from applying for Voter ID Card, because you will have to take numerous trips to Election Commission Office? If this is your worry then you should know that now you can apply for Voter ID Card Online in India at the comfort of your home without visiting any Government Office. Yes our Government has seriously worked on Digital India initiative which was the dream of our Hon'ble Prime Minister of India Shri Narendra Modi, and as a result now residents of India can apply for Voter ID Online.
So in this article, we have mentioned the complete process of how the residents of India can apply for Voter ID Card Online in India without visiting any Government Office.
Process to Apply for Voter ID Card Online in India
Before we proceed with the application process to apply for Voter ID Card Online in India, you should have following documents scanned on your device:
Age proof document
Birth certificate issued by a Municipal Authorities or district office of the Registrar of Births & Deaths or Baptism certificate; or
Birth certificate from the school (Govt. / Recognized) last attended by the applicant or any other recognized educational institution; or
If a person in class 10 or more pass, he should give a copy of the mark sheet of class 10, if it contains date of birth as a proof of date of birth; or
Mark sheet of class 8 if it contains date of birth; or
Mark sheet of class 5 if it contains date of birth; or
Indian Passport; or
PAN card; or
Driving License; or
Aadhar letter issued by UIDAI
Residence proof document
Bank / Kisan / Post Office current Pass Book; or
Ration Card; or
Passport; or
Driving License; or
Income Tax Assessment Order; or
Latest rent agreement; or
Latest Water / Telephone / Electricity / Gas Connection Bill for that address, either in the name of the applicant or that of his / her immediate relation like parents etc. ; or
Any post / letter / mail delivered through Indian Postal Department in the applicant's name at the address of ordinary residence.
All these documents must be scanned and should be in .jpg,.png,.bmp,.jpeg file format, file size of the scanned documents should not exceed more than 2 MB.
So now let's start up with the process on how to apply for Voter ID Card Online in India.
To apply for Voter ID Card Online you should visit official National Voter's Service Portal by accessing URL //www.nvsp.in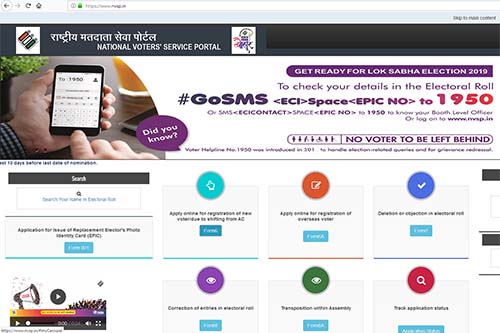 From the homepage menu options just click on Apply online for registration of new voter/due to shifting from AC (Form 6)
A new page will open with Form 6 Online Application.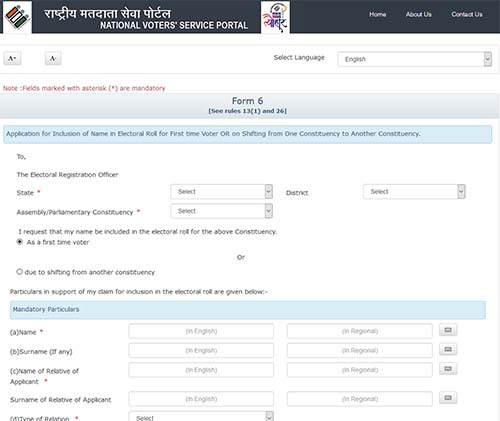 From the top option select the language in which you will need your Voter ID Card from English/ Hindi / Malayalam
Once you select the language, the application form will load in selected language
From the first option select the state, district, assembly/ parliamentary constituency.
From "I request that my name be included in the electoral roll for the above Constituency" select As a first time voter if you are applying for Voter time for the first time or else due to shifting from another constituency in case of change in address or shifting.
Next there will be Particulars in support of my claim for inclusion in the electoral roll are given below:
Fill your name, surname, name of relative applicant, surname of relative applicant, select type of relation from the list, enter age or else fill up your date of birth, gender, Current address where applicant is ordinarily resident, Permanent address of applicant (if permanent address is the same as current address then select same as above).
If you have any disability then select whichever applicable which are displayed like Visual impairment, Speech & hearing disability, Locomotor disability or in case any other then you will need to mention it in other field.
Enter your email id and mobile number.
And then upload your photograph, age proof document and address proof document by selecting the documents from the list.
Final step will be you will have to give declaration stating I hereby declare that to the best of knowledge and belief by entering your town/ village, state, district, date, place.
Solve the captcha code and click on submit button.
It will take some time to submit your application and the documents uploaded.
Finally, a message will appear "Thank you for submitting form on NVSP. Your form reference id is OWWXXXXXXXXX"
You can use this reference id to track your application status.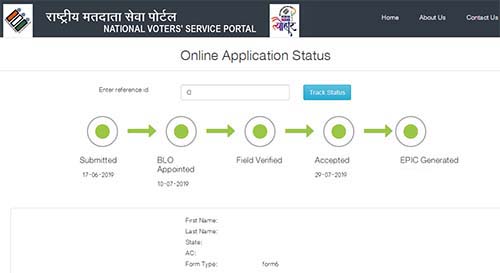 Next, BLO will be appointed, and then field verification will be conducted. In my case, I was been called by BLO at the panchayat and they asked for additional documents like parents' voter id and signature on one form (if you have provided family members voter if for reference then you won't be called by BLO and the process will be automcatilly completed online). When the status was showing as BLO Appointed, I had received this call from BLO which almost took 1 month from the application date.
Next again when I tracked the status in 15 days, the status was showing as Accepted and EPIC was generated and the complete EPIC Number was also displayed when checking status.
Finally, I received my Voter ID Card after one more month, and it was collected by myself from the Panchayat Office.
That's it, this is how one can easily apply for Voter ID Online in India.