SBI Card is one of the topmost Credit Card providers in India. Anyone won't deny applying for Credit Cards from State Bank of India if get a chance, as they come with very good benefits and regular cashback offers online as well as offline merchants.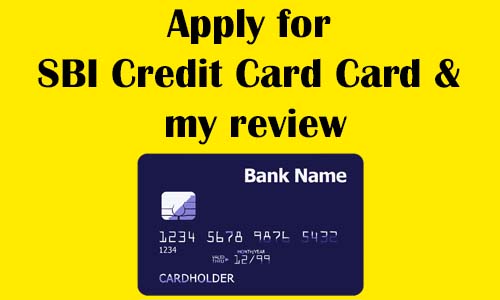 SBI Credit Card Application Process
One fine day I received a call from BankBazaar saying I am eligible for a Simply Save Credit Card from SBI. I guess I had received this call from them due to my Credit Card search query on their site on the previous day.
Just to have a try I told them I would like to apply for SBI Simply Click Credit Card and not Simply Save. I had done my research beforehand and as per my usage, I had found that Simply Click would be more beneficial for me. So they just took my details and forwarded my application. However, you can also apply for SBI Credit Card directly by visiting the SBI Cards website as per your choice.
I instantly received an SMS on my registered mobile number stating you have submitted your SBI Card Application No XXXXX. So with this application number, I could easily know the real-time status of my application.
On the next day, I received a call from SBI to book an appointment for document collection. I enquired whether I will need to provide any income documents or salary slips or ITR, but the executive replied that I will need to submit only address, and identity proof documents which include Aadhaar Card and PAN Card Photocopies and original will be needed just for verification with the field executive.
So the appointment was fixed for the document collection on the next day, and on the next day evening, I received a call from the field executive that he is on the way to my house for document collection. I guided him with the route to reach my home.
The field executive just took photocopies of the Aadhaar and PAN Card, and some signatures of mine on the application form. This took just a few minutes of time, the field executive told me that the approval/ disapproval decision by the bank would take almost 21 days.
Verification for SBI Credit Card
Until next week, there was no update of my application. But as soon as the week passed I received a call from SBI, this was the verification call from the SBI Team. First, they explained the features and benefits of the SBI Simply Click Credit Card which I had applied and then finally they confirmed my PAN details, Name, residence address, and work address. (remember that you should give exact same details without any mistakes while the verification process).
Again twice in alternative days, I received more two verification calls from SBI Bank confirming the name, address, work address and they also asked whether I hold an SBI bank account with them. As I hold SBI Account, they asked for the Bank Account Number and the Branch.
On the last verification call, the executive asked whether if required can physical verification will be done on the work address. On which I agreed with them.
So after that call, there was no update for almost 2 -3 days.
Physical Verification of Address Initiated
And suddenly one day I received a call from their field executive to guide him to locate the work address. So this was a surprise visit from their field executive for physical verification of work address, so on reaching to my work address he asked me about my work, how many people staying in my family, and he asked to give me one name just as an introducer.
SBI Credit Card Approval/ Disapproval Decision
After two days I received an SMS on my registered mobile number stating "Congratulations! Your SBI Card App NoXXXX has been approved. Card will reach you in 7 working days."
I was surprised to see my application approval SMS. Same time I also received my Credit Card Number in PDF format on my registered email address. So before the delivery of the physical card, I was able to use my Credit Card Online using the details shared in the PDF.
SBI Credit Card Delivery
Physical SBI Credit Card was dispatched through BlueDart on the next day and it got delivered to me within one working day.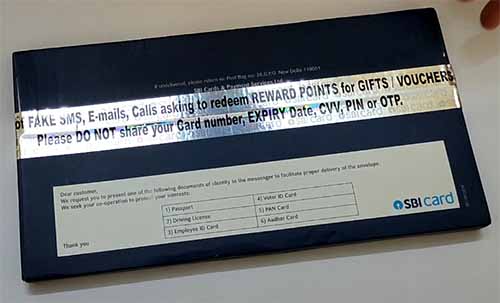 So the complete application experience of SBI Credit Card was very smooth and swift.
Received SBI Simply Save Instead of Simply Click
One problem which I have to deal with was, as said earlier in this post that I had applied for SBI Simply Click Credit Card. But instead of SBI Simply Click from the third verification call onwards my application was changed to SBI Simply Save, and on contacting the customer care department they said they can't do anything when the application process is under the processing stage. So they asked me to wait for the final status of approval and then asked me to call.
So finally when my application got approved and I received the PDF Copy of my Credit Card, I registered on SBI Card Website and found that the Card was Simply Save and not Simply Click. I contacted Customer Care and told them this and they asked me whether they should raise a case for wrong card delivery which would take a lot of time to initiate an investigation if the claim is valid or not. They also had an option for the request to change over to another credit card variant which would be initiated instantly and on the next day, the new changed credit card would be dispatched.
The customer care also confirmed that there won't be any charges levied for this request. So I agreed for Change over to another credit card variant and my request was processed successfully on the same day and on the next day my credit card was dispatched.
How to Close SBI Credit Card
For any reason if you want to close your SBI Credit Card then SBI offers numerous online options to close SBI Credit Card. To be able to close your Credit Card, you should not have any pending dues on your card as well as any active EMI. Before placing the closure request you should make sure that you have cleared all the pending dues. Below are the instructions which you can follow yo close SBI Credit Card Online.
To Close your SBI Credit Card Online install the app SBI Card on your device
Login with your card details
Once logged in, from the homepage of SBI Card just tap on more button which is appearing at the bottom of the page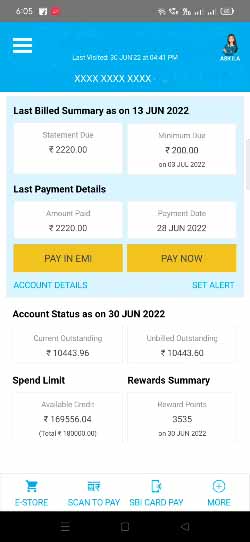 On tapping more button it will expand few more options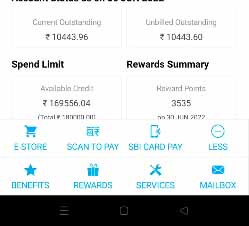 From those options available just tap on services
From the services page, just tap on the Card Closure Request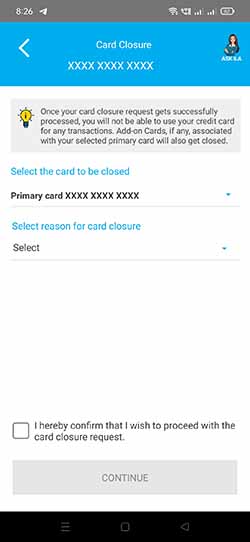 This will bring a new page of Card Closure
On this page you need to select the card to be closed (if you have multiple cards then select the card from the list of be closed, or if you have only one card then by default it will be selected in the list)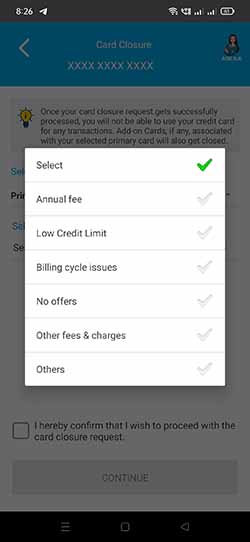 Next you will need to select the reason for card closure from the available reasons from the list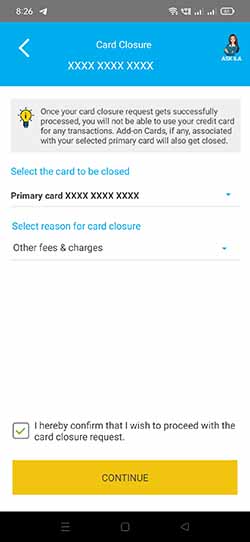 Select the appropriate reason from the list and tick mark on the "I hereby confirm that I wish to proceed with the card closure request" and tap on the continue button
To confirm the request you will receive OTP on your registered mobile number and email address
Enter the OTP Code and tap on the submit button
You have successfully submitted your request for SBI Credit Card Closure
Once your card closure request gets successfully processed, you will not be able to use your credit card for any transactions. Add-on cards, if any associated with your selected primary card will also get closed.
How many days it will take to get sbi credit card after verification?
After SBI Credit Card verification is conducted the card will be dispatched in 2 – 3 working days and depending upon your location it could take 1 -5 working days to get the card delivered.