Prime Day Sale is one of the biggest shopping events of the year conducted by Amazon. Due to the Coronavirus disease (COVID-19) pandemic, the Prime Day Sale was delayed which usually used to be conducted in the month of July. But finally, the two days Prime Day Sale event of this year will be starting from 6th August to 7th August.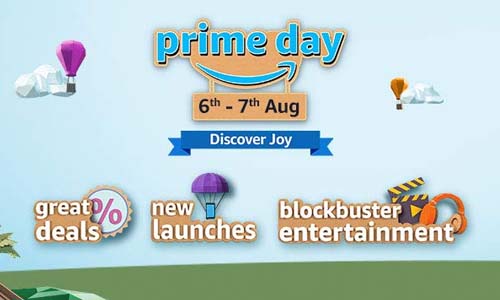 When is the Prime Day Sale?
Prime Day is a two-day exclusive shopping event, starting from 6th August through 7th August, exclusively for Prime members. Prime Day is an annual celebration with Great Deals, Blockbuster Entertainment, and new Product launches only for Prime members.
With great deals, discounts and offers, the Prime Day Sale also offers 10% Instant Discount with HDFC Bank Debit/ Credit Cards & EMI and 5% reward points + 5% instant discount with ICICI Bank Amazon Pay Credit Card.
As a bonus, you can get 20% cashback up to ₹200 on Prime day orders if you shop now from Small Businesses on Amazon.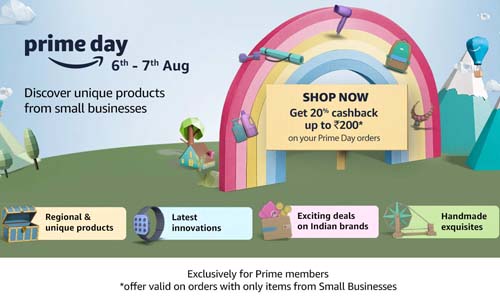 Collect rewards today & Save on Prime Day
Shop from Small businesses now get 20% Cashback | up to ₹200 on Prime Day orders
Shop Gardens Outdoors products get 20% Cashback | up to ₹50 on Prime Day orders
Shop Stationery & office supplies now get 20% Cashback | up to ₹50 on Prime Day orders
Shop Car, Bike parts accessories now get 20% Cashback | up to ₹50 on Prime Day orders
Shop for books now get 20% Cashback | up to ₹50 on Prime Day orders
Shop pet products now get 20% Cashback | up to ₹50 on Prime Day orders
Shop Kindle eReader now get 20% Cashback | up to ₹50 on Prime Day orders
Shop Watches now get 20% Cashback | up to ₹50 on Prime Day orders
Steps to avail prime day cashback rewards
Do any of the actions from the section above between 23rd July and 4th August 2020
Collect the reward post receiving the confirmation message
Shop on Prime Day 6th & 7th August. Get cashback as Amazon Pay Balance
Not a Prime Member? Unlock Prime Day Reward by Upgrading to Prime
Unlock Prime Day Shopping Rewards – Sign up for Prime annual membership at INR 999 and get 20% cashback up to INR 150 on next shopping transaction on Prime Day
SPECIAL OFFER: Get ₹150* back on Prime Day orders
Recharge and Bill Payment's Offer
Get 100% Back up to ₹75 on Prepaid or DTH recharge payment
Get 100% Back up to ₹75 on bill payment
Follow the steps below to redeem the reward:
Once the reward is collected, make a Bill payment and Prepaid or DTH recharge between 06-Aug-2020 12:00:00 AM to 07-Aug-2020 11:59:59 PM of min. value ₹1.
The reward is applicable on your first utility or postpaid bill payment during the offer period and this offer is only applicable for select Prime customers. Cashback is not applicable if you are manually entering your @apl handle in the UPI payment option
This offer can't be clubbed with any other offer & is valid 1 time(s) per user
The cashback will be credited as Amazon Pay balance within 3 working days. You'll receive an email and SMS for the cashback. Alternatively, you can also check your cashback at www.amazon.in/vs
Nearby Stores offer
Get flat ₹100 back on min order ₹1 at Big Bazaar, More & Medplus
Collect the offer by going to rewards section on the app or website
Follow the steps below to redeem the reward:
Once the reward is collected, make a payment at Big Bazaar/More/Medplus store between 06-Aug-2020 12:00:00 AM to 07-Aug-2020 11:59:59 PM of min. value ₹1.
Reward is applicable on any one transaction across Big Bazaar, More or Medplus stores for select Amazon Prime customers.
This offer can't be clubbed with any other & is valid 1 time(s) per user
The cashback will be credited as Amazon Pay balance within 3 working days. You'll receive an email and SMS for the cashback. Alternatively, you can also check your cashback at www.amazon.in/vs
Best Deals on Products
Redmi 9 Prime |Prime Time All-rounder | Starting ₹9,999
Save early with live offers
Get rewards up to 2500 Healthcare, Education and more
Shop from Small businesses now get 20% Cashback | up to ₹200 on Prime Day orders
Extra savings on 30K products | Collect Now
Exclusively for Prime members Extra 10% off | Amazon basics | SOLIMO | SYMBOL
Get 5 Free AUDIOBOOKS with your 90-day free trial | audible
Great deals across categories
Maximize saving with Prime deals | NO COST EMI | EXCHANGE OFFER
Up to 40% off Mobile & accessories
Up to 60% off Electronics & Accessories
Up to 70% off on Home & Kitchen products
Up to 60% off TVs & Appliances
Up to 60% off Daily essentials
Up to 70% off Books, toys, gaming and more
Up to 70% off Amazon Brands and more
Amazon Pantry – Stock up and save 60% | Monthly Groceries
Up to ₹1500 off on Credit Cards and EMI | Up to ₹650 off on Debit Card transactions
On purchases of ₹5,000 or more
Shop for ₹1500 using Amazon Pay & get ₹150 back* now | ₹450 back* in future
Validity: 6th and 7th August | Max cashback ₹600 | T&C apply