Air India provides a preferred seat selection Scheme facility in which the passenger can make a selection of seats according to their choice. This facility of preferred seat selection Scheme is available online as well as you can also avail it through Air India Booking office and Contact Center.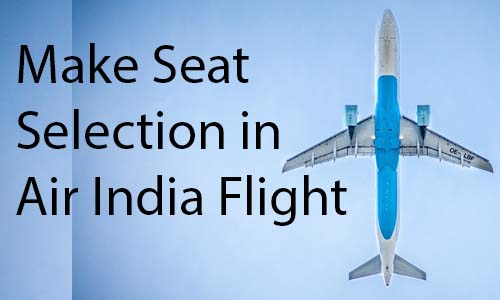 You can now pre-reserve seats against payment up to 48 hours prior to departure time. Seats can be reserved through web check-in at no cost within 48 hours of departure for all cities except for travel from Dubai, Muscat, Paris, Tokyo, Birmingham, Sydney, and Melbourne.
So now let's learn how you can make Air India Seat Booking Online.
Air India Seat Selection Procedure
To make Airindia seat selection, visit the Air India Official Website https://www.airindia.in and on the homepage, you will find the select seat option
Just click on select seat option and a new page of preferred seat selection Scheme will open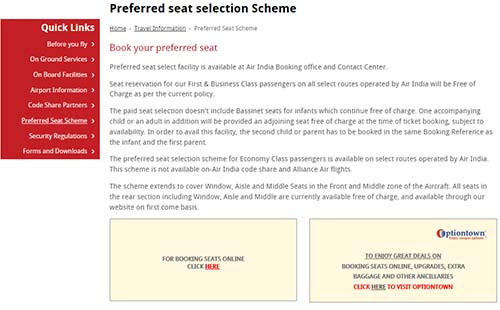 On the preferred seat selection scheme page, all the terms and conditions regarding the Airindia seat selection will be mentioned. To proceed with booking seats online just click on FOR BOOKING SEATS ONLINE CLICK HERE button or else if you find difficulty then you can directly visit online booking service page by accessing URL https://book.airindia.in/itd/itd/lang/en/reservations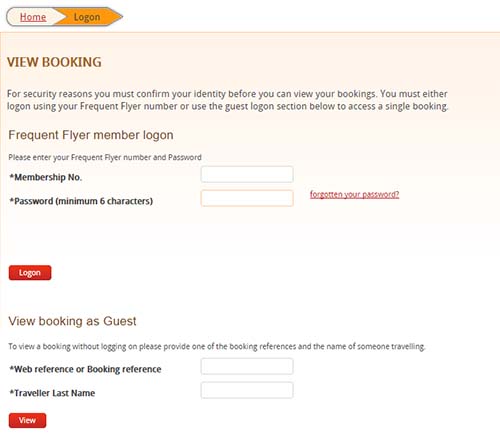 If you are Air India's Frequent Flyer member then you can log in using your member details or else below you will find View booking as a Guest option
Under View booking as Guest enter your Web reference or Booking reference, traveler last name and click on the view button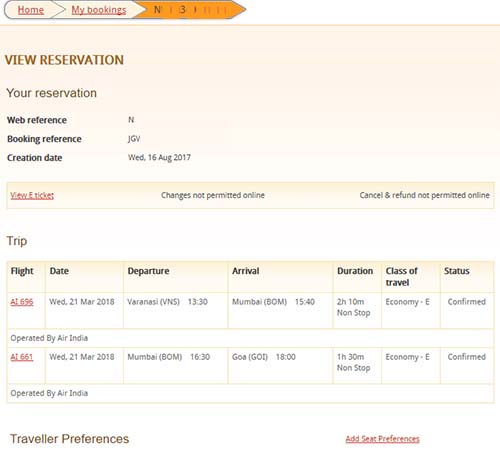 On the next screen your reservation details will be displayed, just scroll down and you will find an option add seat preferences.
Just click on add seat preferences and it will load the seating selection option and seat availability in Air India flight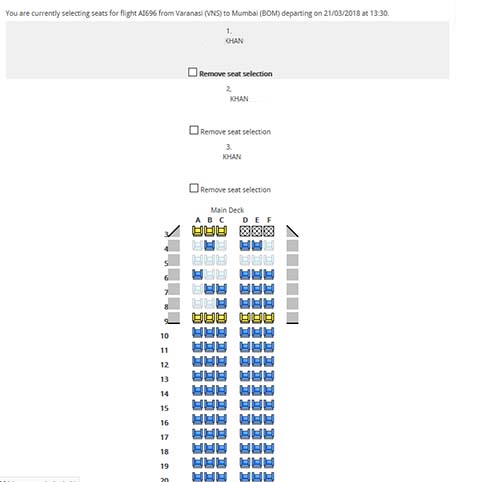 All passengers will show on the page, you need to just select the seating as per your preference by clicking on the seats displayed in below Air India Flight Seat Map (Flight Seating Chart)
All seats which are appearing in blue color are non-chargeable means no additional fee is charged on making the seat selection. And those seats which are appearing in yellow color are chargeable seats which means fees will be applicable on it which you will need to pay further.
Make the Airindia seat selection as per your preference for all the passengers and just click on the proceed button. Or if you have another connecting flight then you can also select seats for that flight too by clicking on the next flight button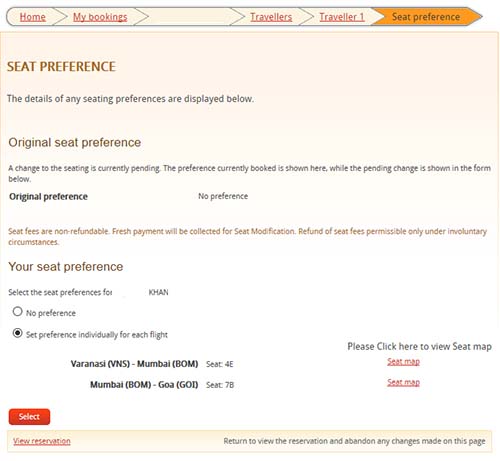 On the next screen, your seat preference selection will be displayed, and by default, your set preference individually for each flight will be selected
Just click on the select button and on the next page change travel requests will appear displaying new seat selection made by you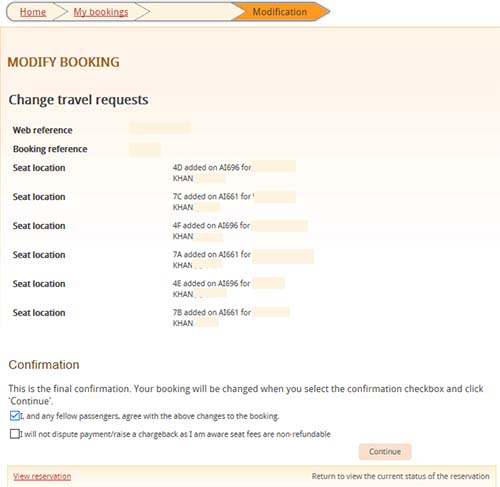 You need to provide confirmation by tick marking on "I and above passengers, agree with the above changes to the booking" and "I will not dispute payment/raise a chargeback as I am aware seat fees are non-refundable".
Once accepting these confirmations just click on the continue button.
If the selected seats are chargeable then you will be asked to continue with the payment, so just make the payment to complete your seat selection preference. In case if you have selected non-chargeable seats then you won't be asked for the payment.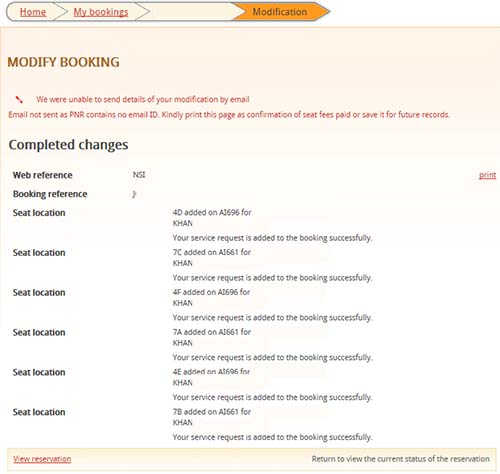 Your seat change request will be completed and changes will be displayed below, if the email address is registered then you will receive the change request via email also you can print the displayed seat preference request for future records.
That's it, this is how you can make Air India Seat Selection Online.