A Device Attached to the System is not Functioning is a very common error found in every Apple iPhone devices while performing data transfer. If you have encountered such error while doing data transfer from iPhone to PC, then it doesn't mean your device is faulty or defective. Instead there is a fix for this and after applying the fix you won't receive such error.
| | |
| --- | --- |
| Error | A Device Attached to the System is not Functioning |
| Trigger | Transferring Data from iPhone to PC via File Explorer |
| Device | Apple iPhone and Other Apple Devices |
The below screenshot is of the error "A Device Attached to the System is not Functioning" triggered while copying video and image files from iPhone to PC using the File Explorer.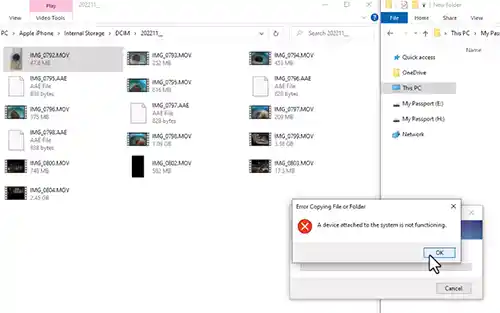 Resolving iPhone A Device Attached to the System is not Functioning
Disconnect your iPhone from PC if already connected
Open Settings on iPhone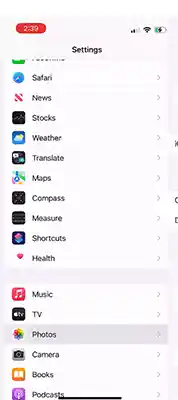 Scroll down settings page and tap on Photos
Scroll down the Photos page and locate "Transfer to MAC or PC"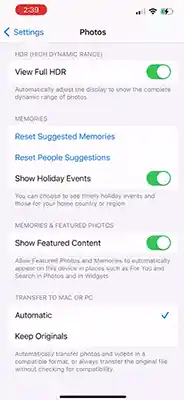 In Transfer to MAC or PC, by default Automatic will be selected
Here you need to change it to Keep Originals
That's it, now connect your iPhone to PC and try transferring the Video and Images from iPhone to PC using File Explorer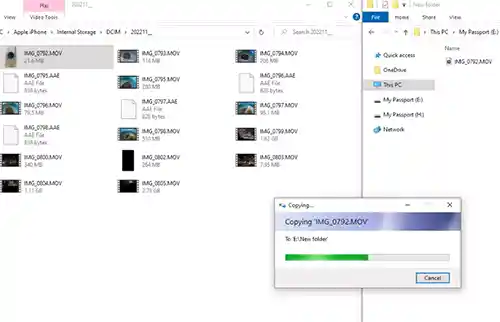 Now you won't come across such "iPhone a device attached is not functioning" error while copying the files.
Additional Steps to Resolve the Error
If you are still experiencing the iPhone A Device Attached to the System is not Functioning error, despite following the above process, you can try the following additional troubleshooting methods to resolve the issue.
Check the Physical Connections
Ensure that your iPhone is properly connected to the computer via a working USB cable. Verify that the cable is securely plugged into both the iPhone and the computer's USB port.
Restart your iPhone and Computer
Sometimes, a simple restart can resolve temporary glitches or conflicts. Begin by restarting your iPhone and then restart your computer.
Update your iPhone and Computer Software
Keeping your iPhone and computer software up to date is crucial for seamless device connectivity. Check for any available software updates on your iPhone and install them. Additionally, update your computer's operating system to the latest version.
Reset the iPhone Settings
Resetting the iPhone settings can help fix any corrupted configurations that might be causing the error. Go to "Settings" on your iPhone, select "General," then "Reset," and choose "Reset All Settings." Note that this won't erase your data, but you'll need to reconfigure your preferences.
Update Device Drivers on your Computer
Outdated or incompatible device drivers can lead to connectivity issues. Visit the manufacturer's website of your computer and download the latest drivers for your iPhone model.
Try a different USB Port and Cable
Sometimes, the USB port or cable you're using can be faulty. Connect your iPhone to a different USB port on your computer and try a different USB cable to rule out any hardware-related problems.
Disable Security Software Temporarily
Security software, such as antivirus programs or firewalls, can interfere with the connection between your iPhone and computer. Temporarily disable them and check if the error persists.
Restore your iPhone
If all else fails, restoring your iPhone to its factory settings can often resolve complex software issues. Make sure to back up your iPhone's data before proceeding with the restore process.
Contact Apple Support
If none of the troubleshooting steps mentioned above work, it's advisable to reach out to Apple Support or visit an authorized service center for further assistance. They can provide specialized guidance and help you diagnose and fix the underlying issue causing the error.