Motorola Google Nexus 6 has been listed on Flipkart as Coming Soon without any price quote, so now it is confirmed that Google Nexus 6 will be soon made available to buy it online from Indian popular e-commerce website Flipkart. By keeping in the mind the features available in Google Nexus 6 the phone can be titled as giant high end smartphone, Flipkart will be seen selling Motorola Google Nexus 6 with 32GB Internal Memory Capacity. Below is the full Specifications/ Features of Google Nexus 6.
Google Nexus 6 Specifications/ Features
Display

6-inch Amoled TouchscreenResolution: Quad HD, 2560 X 1440 PixelsCorning Gorilla Glass 3

Operating
System Version

Android v5.0 (Lollipop) OS

Camera

13 Mega Pixels (Primary Camera)2 Mega Pixels (Front Camera)

Processor

2.7 GHz Qualcomm Snapdragon 805 Processor

RAM

3 GB

Battery

3220 mAh Lithium lon Battery

Connectivity

WiFi, 4G, 3G, 2G, Bluetooth v4.1

Storage

32 GB Internal MemoryNo Expandable Memory Slot

SIM
Type

Nano

Flash

Dual LED Ring
The only disappointing features in this phone Google Nexus 6 is there is no slot to extend memory with SD Memory Card and secondly Google Nexus 6 is huge disappointment for people who like to take selfie as the front camera of Google Nexus 6 lacks to 2 Mega Pixels. The one main plus point in this phone Google Nexus 6 is it runs on latest Android 5.0 Lollipop OS.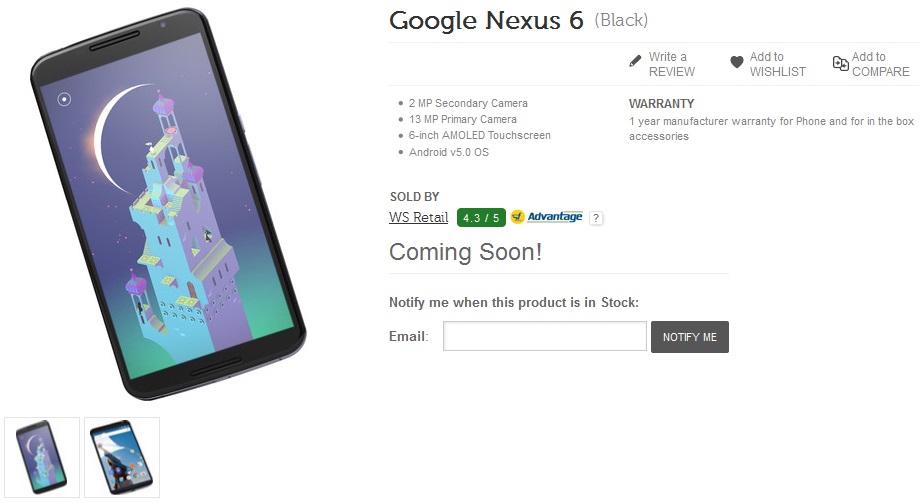 All those who are willing to buy this smartphone Google Nexus 6 can buy it online from Flipkart but right now it is not available in Stock, so you can get notification from Flipkart when the Google Nexus 6 will come in stock by using the feature available in Flipkart Notify me when this product is in Stock.
Update: Google Nexus 6 Now Available on Flipkart